Instructions for Poster Presentations
Thank you for presenting at IPVC 2023
This page is designed to prepare you for your Poster Presentation at IPVC 2023. Please visit the page regularly for updates on technical requirements, deadlines and general information.
Who are these guidelines for?
Presenting authors of abstracts selected for Poster Discussion (Short Oral) Presentation
Presenting authors of abstracts selected for Poster Viewing Presentation
As a Poster Presenter* you will need to:
*The below refers both to Poster Discussion (Short Oral) Presentation and Poster Viewing Presentation.
Register for the Conference
Abstract presenters who have not completed their registration by February 16, 2023 for the regular abstract submission and by February 28, 2023 for the late-breaking abstract submission, will be removed from the scientific program.
Prepare an E-Poster for the IPVC virtual platform (onsite and online participants)
The E-Poster will be uploaded to the IPVC 2023 Conference virtual platform and mobile app. Please see below for further guidelines on how to prepare your E-Poster.
Prepare a traditional paper poster (onsite participants only)
The paper posters will be displayed in two shifts: Shift 1 will be April 18-19, 2023 and Shift 2 will be April 20-21, 2023, in the designated areas at the Conference venue. Presenters will be notified of their poster viewing dates via email
IMPORTANT: Please note, that you are required to print and bring your own poster. Please see below for further guidelines on how to prepare your traditional poster.
To learn more about your session format and view the requirements for Poster preparation, click on the tabs below.
Poster Discussion (Short Oral) Sessions
Session Format
The Posters of selected abstracts will be presented in dedicated parallel Poster Discussion Sessions taking place on:
Tuesday, April 18th from 10:00-10:30
Wednesday, April 19th from 16:45-17:15 
Thursday, April 20th from 14:00-14:30
The Poster Discussion Sessions will be moderated by chairpersons and each presenter will have 5 minutes to give a short oral presentation of their poster (3 minutes presentation followed by 2 minutes for questions and answers. Please refer to the scientific program for more details.
Requirements for Poster Discussion presenters
If your abstract is selected for a Poster Discussion, you will have a designated time slot at the Poster Station where you can present your poster and give a short oral talk. Each presenter is allocated 5 minutes in total for their talk including Q&A (3 minutes of oral presentation with 2 minutes of Q&A).
IMPORTANT:
Timings will be strictly adhered to by the session chairs. Please be considerate and keep to the scheduled times to allow all speakers the opportunity to present their work.

Poster presenters with discussions are expected to attend the Conference in person and present their posters in person in their allocated session. If you will not be able to travel to Washington D.C., please contact the Conference Secretariat at IPVC2023@kenes.com

as soon as possible.

Poster presenters who have registered for

online participation

at IPVC 2023 will have to prepare an E-Poster only. Poster Discussions will be limited to in-person participation.
Onsite presenters

do not

need to prepare slides in addition to their posters. The talks will be given in front of the individual Poster at the designated Poster Stations in the Conference venue.
Poster Presentation with Viewing
Onsite
Abstracts allocated to Poster Presentation with Viewing will be assigned to 1 of 2 shifts.​ The presenter will be asked to stand by the poster boards at the Exhibition Area during the "Meet the Poster Presenter" break. 
There will be 2 breaks for this, 1 during each shift:
Wednesday, April 19th, 16:45-17:15
Friday, April 21st 9:30-10:00
Online – E-Poster Gallery
All registered attendees will have the opportunity to view the submitted E-Posters in the online E-Poster Gallery. The Gallery will be accessible via the Conference virtual platform and the Conference mobile app.
Onsite Paper Poster Guidelines
Designated poster board numbers will be sent to all participants registered for in-person attendance closer to the Conference dates unless they contacted the Secretariat before that date to specify that they would not be preparing paper posters.  

Poster boards will be located in the Exhibition Area and Foyers from Tuesday to Friday (18-21 April, 2023).
Please mount your poster following the below schedule (exact times will be published soon):
Shift 1 Mounting: Tuesday, 18 April-Morning
Shift 1 Removing:

Wednesday, 19 April-Evening

Shift 2 Mounting:

Thursday, 20 April-Morning

Shift 2 Removing:

Friday, 21 April-Evening
Posters remaining after 18:30 on 21 April will be discarded.
Technical specification for preparing paper posters
Please prepare your poster to fit the dimensions below.
The dimensions of the poster board are PORTRAIT.
It is recommended that posters are prepared on one sheet of material.
The dimensions of the poster should not exceed 90cm wide x 120cm high.

Allocate the top of the poster for the title and authors as stated on the submitted abstract.

The text, illustrations, etc. should be bold enough to be read from a distance of two meters (six feet).

Double-sided tape and technical equipment will be available for the mounting of posters. Staff will also be available to assist you at the designated Poster Helpdesk at the Conference venue.

Note there will be 2 portrait posters presented per landscape board. Before printing, please double-check the dimensions with your print service provider to avoid low print quality. 

Please note that you are required to print and bring your own poster.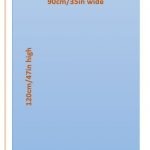 E-Poster Guidelines
Poster presenters were contacted via email from the IPVC 2023 Secretariat and with a dedicated link to upload their E-Posters and further instructions. Is you have not received this communication, please check your spam folder first, and contact us at   IPVC_Abstracts@kenes.com.
Please note that:
Only E-Posters of registered participants will be displayed in the E-Poster Gallery of the IPVC Conference virtual platform

Deadline for uploading your E-Poster:

March 31, 2023

By uploading your E-Poster, you agree to have it published in the official Conference publications and on the Conference website, virtual platform, mobile app and society website for the duration of 3 months following the 35th International Papillomavirus Conference.
Technical specification for E-Poster preparation
Please upload* your E-Poster as a PDF file in LANDSCAPE or PORTRAIT orientation.
Language: All E-Posters should be prepared in English
File Format: PDF format – 1 page
Orientation:

Option 1:

Create your document in PowerPoint landscape layout 16×9 and save it as a PDF file

Option 2:

Create your poster in a standard document software or a portrait-oriented PowerPoint and save it as a PDF file

Font types: Arial, Calibri, Verdana, Times New Roman or Helvetica
Font size: 11 points or larger
Hyperlinks, animated images, animations and videos are not permitted and will be non-functioning

QR Codes may be included, but they must not lead to promotional materials. 

Images and tables: At least 200 dpi – good picture quality is essential;
When inserting images, photos, tables, etc., please use simple copy-paste and do not use embedded documents – the system does not support embedded files -audio or video

Avoid overlapping objects and layers – only the final view/status will be visible

When saving your PDF please do not use symbols or special characters (ie. +/@/ü) in the file name

Please do not use headers and footers

File size: Less than 5 MB
Please click HERE to see a landscape sample poster with arrangement tips. For a portrait sample poster, please click HERE.
*24hrs after uploading, you can log back in, click on "E-Poster upload", and check how the E-Poster will appear on the online platform. If you wish to make changes, please use the "Edit Files" Button. We advise you to log in 24 hours after you have uploaded your E-Poster and confirm if it shows as you have intended it to. If you establish any technical issues, please contact us at IPVC_Abstracts@kenes.com
Contacting E-Poster presenters
Within the Conference virtual platform, there is a messaging service to facilitate scientific exchange. Messages can be sent by participants directly to the presenter's email (without seeing the presenter's email address) by clicking the envelope icon. If you wish, you may include your email address in your message so the presenter can reply to you.